Air Date: 11/1/23
In the first of our #NaNoWriMo 2023 interviews, I'm joined by multi-genre author D.V. Stone who will talk about how she successfully completed NaNoWriMo and offer encouragement to those participating this year.
Promoted Book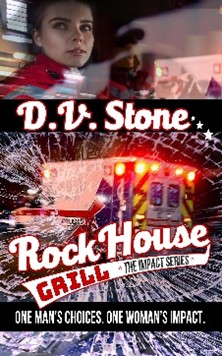 One man's choices—One woman's impact
Winner N.N. Lights Book Heaven 1st place Sweet Romance
Author Shout Out Recommended Read 2020
M.A.A.S. 3rd Place 2022
Aden House, successful but driven chef and TV personality, refuses to slow down. His life implodes one night, damaging him both physically and emotionally. He's rescued by a woman he thinks of as his angel.
Shay McDowell has rebuilt her life after her divorce. She juggles volunteer EMT duties and her job, while dreaming of becoming a chef. She finds her way to Rock House Grill and back into the life of the man she helped save.
Can love be the ingredient needed to survive the many obstacles they face?
Other books talked about on the show
The Mortar & Pestle series. D.V. Stone wrote the fourth book in the series, Sea Hunter.
About our guest
D. V. Stone is a multi-award-winning, multi-genre, traditionally and independently published author. She writes books people want to read. Her stories are about the importance of friends and family, regardless of genre. They are about overcoming obstacles, often with humor.
Since retiring, she has been a full-time author and blogger. Around the Fire is a popular weekly blog where she introduces both established and new authors, giving an insider's look into their lives and books as well as tidbits about her own life. A former Emergency Medical Technician, she volunteered in New Jersey and Pennsylvania and worked professionally in a women's state prison. D. V. was the proprietor of a coffee shop and then a small restaurant/ice cream stand. The years following were as a manager in an animal emergency hospital, while her last position was in a human medical office.
When not behind the wheel of 2Hoots—a 41-foot long 13.2 feet high 5th Wheel camper, she rambles around town in Northern New Jersey in a white Camaro. She also loves travel and history. D.V. is a wife to an amazing husband, mother to one son, and not your average grandma to three beautiful grands. A woman of faith, she believes and trusts in God.
"My greatest pleasures are spending time outside with friends and family, cooking over the open fire, sipping a glass of wine, and reading."
Hali, her rescue dog, always reminds her to let readers know, "Woof, woof." Which loosely translates as support your local animal rescue."
You can learn more about D. V. by following her on Social Media.
Link tree for one-stop connections Link Tree
https://www.dvstoneauthor.com/
https://mailchi.mp/18125bb60cc5/dv-stones-news-bulletin
https://www.instagram.com/d.v.stone/
https://www.facebook.com/dv.stone.1
https://www.goodreads.com/author/show/16344100.D_V_Stone
https://www.bookbub.com/authors/d-v-stone
https://www.youtube.com/channel/UCoWqGJB3WxpUCV2OUE2VN_w
Show Sponsors
Want to see your book, service, or company listed here? Check out our advertising options!